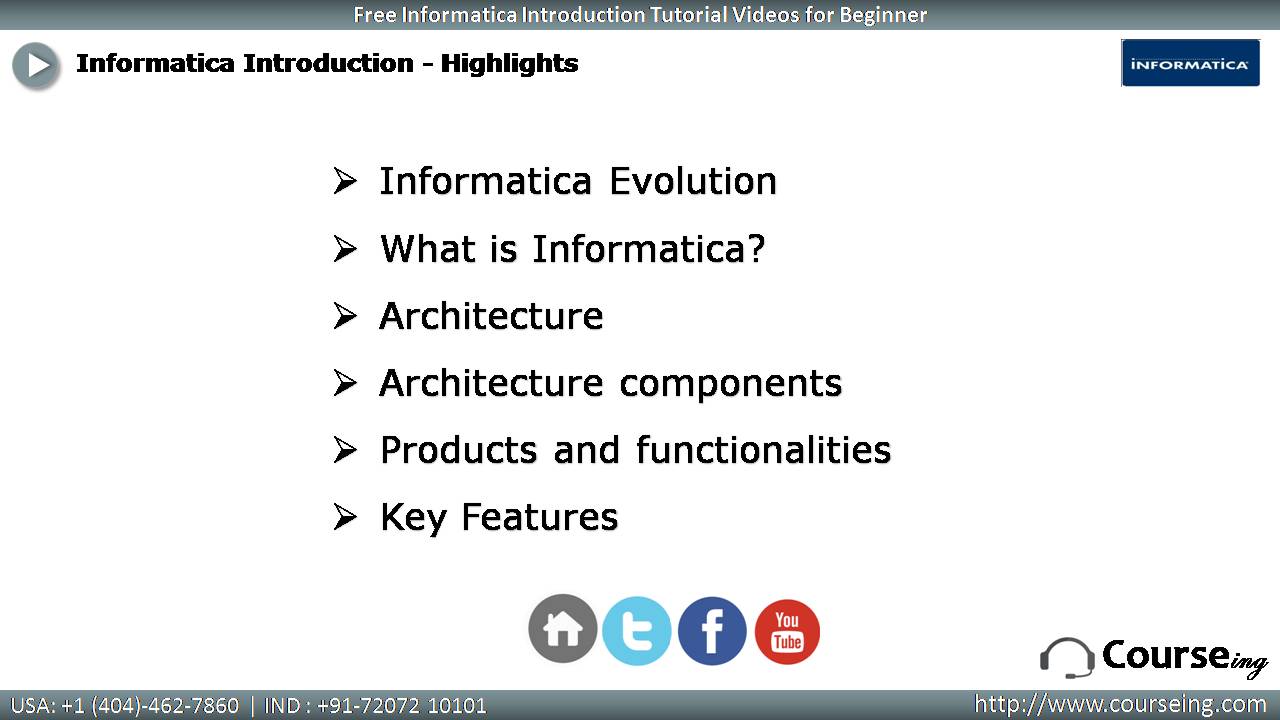 In this Blog, we are going to talk about Overview of Informatica Evolution, Informatica definition, its architecture, major Components, Products and Functionalities and key features.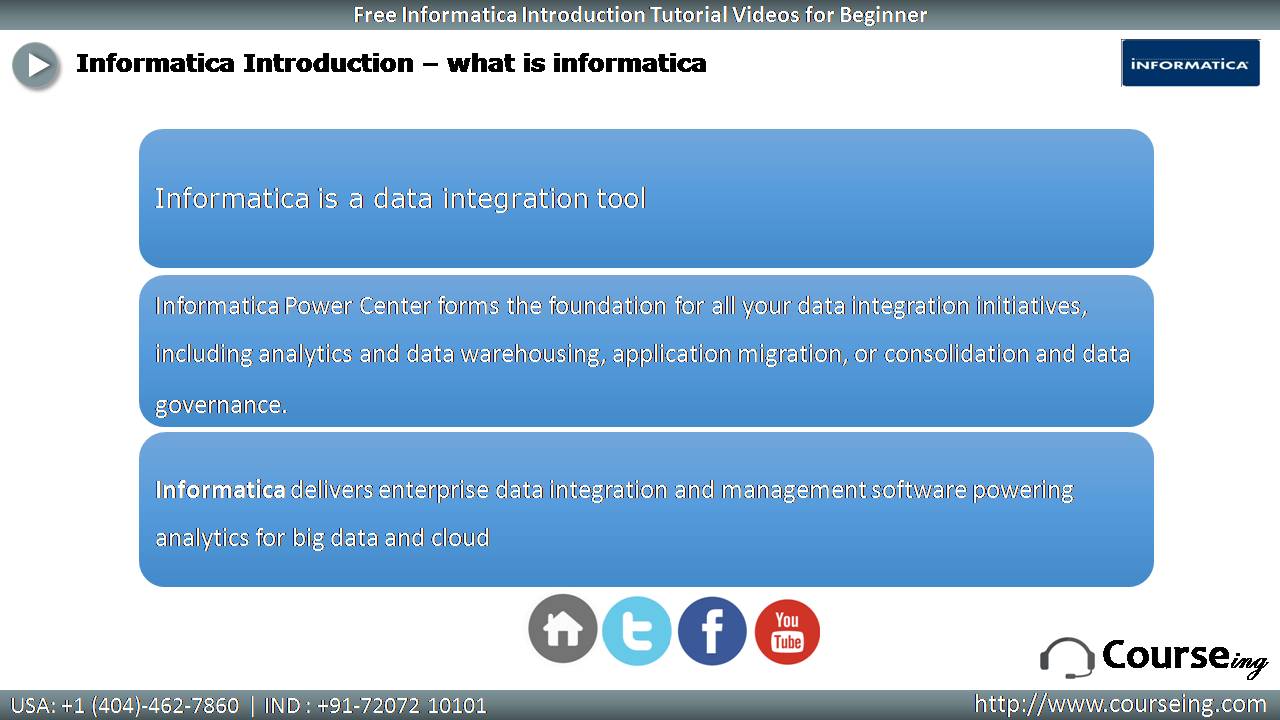 Firstly, we will quickly learn what Informatica is all about
Informatica is a data integration tool which delivers enterprise data integration and management software powering analytics for big data and cloud.
It will help in mastering data integration concepts such as ETL and data mining using Informatica Power Center.
Developers can use this tool to create, execute, monitor and schedule ETL processes.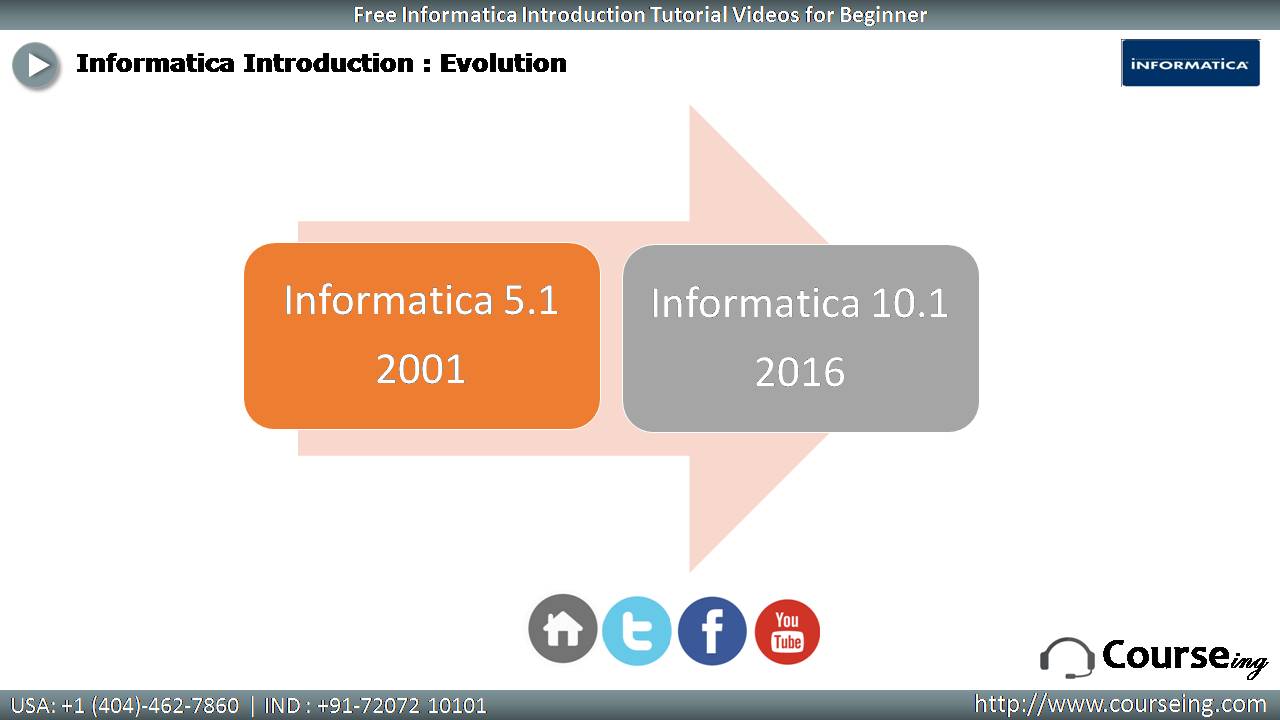 Now, let's discuss about Informatica Evolution
Informatica's original Version 5.1 was released in 2001 and the latest version of Informatica 10.1 is released in 2016.
And Power center 6.1.2, 7.1.2, 8.1, 8.5 and 8.6 are some popular versions of informatica.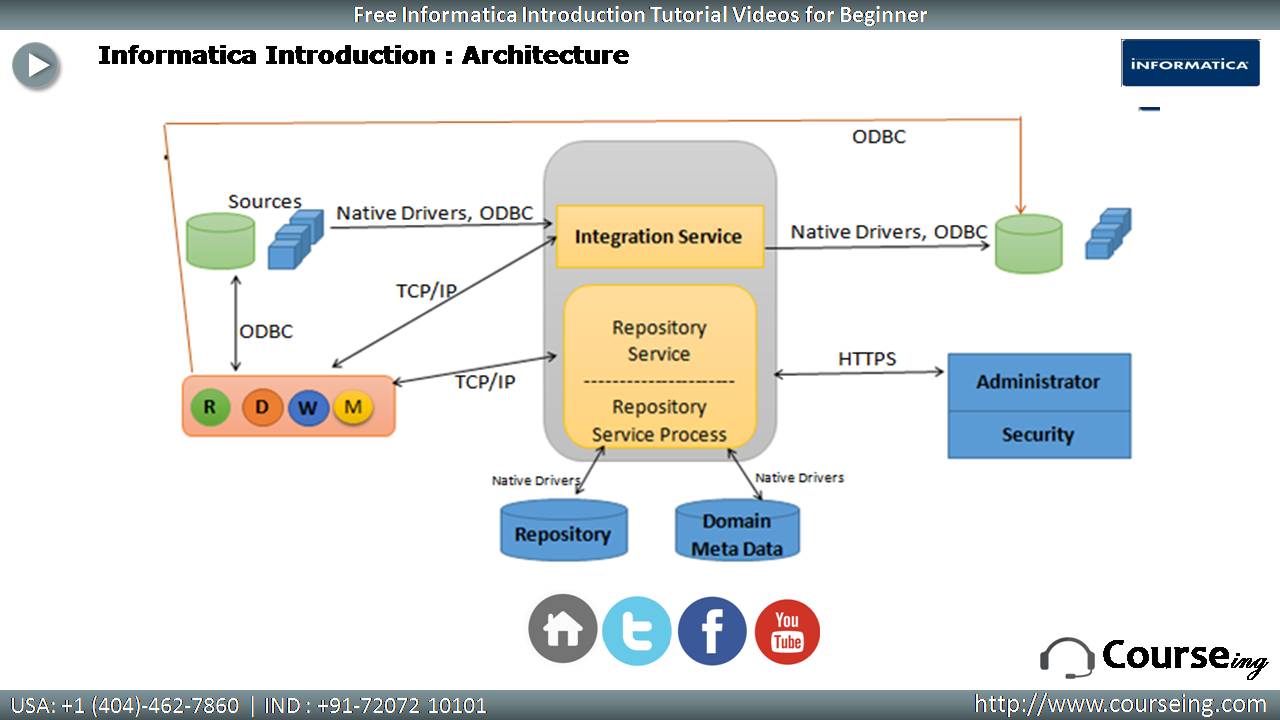 Now, We will see the Architecture
Informatica Power Center architecture consists of 3 main components namely Informatica Power Center Client Tools, Informatica Power Center Repository, and Informatica Power Center Server.
First Component is Informatica Power Center Client Tools. These are the development tools installed at developer end. These tools enable a developer to define transformation process, known as mapping.
Second one is Informatica Power Center Repository; is a kind of data inventory where all the data related to mappings, sources, targets etc. is kept.
And finally, the third component, Informatica Power Center Server. Here, Server is the place, where all the executions take place.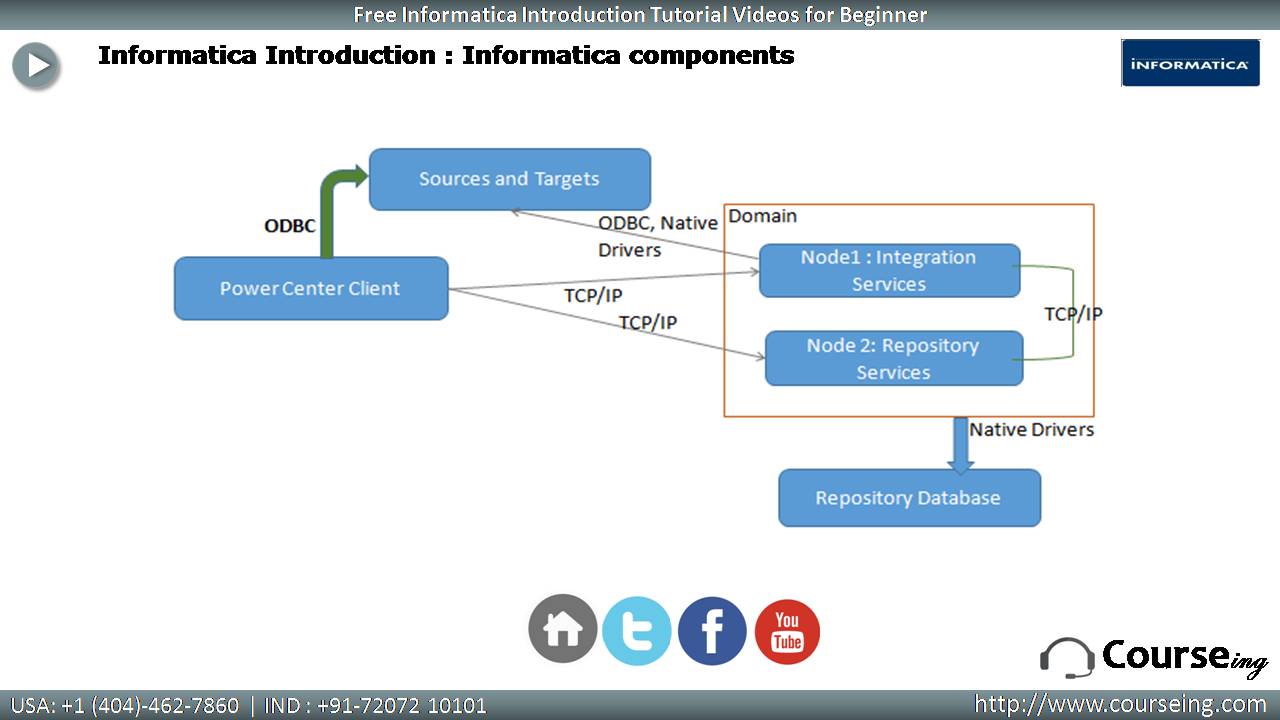 Here, we will briefly learn about other Components
First one is Integration Service
Integration Service conducts and implements the ETL logic
Second one is Repository Service
It manages connectivity to the metadata repositories, where mapping and workflow definitions are saved
Next one is Repository Service Process which retrieves, inserts and updates repository metadata. It is a multi-threaded process.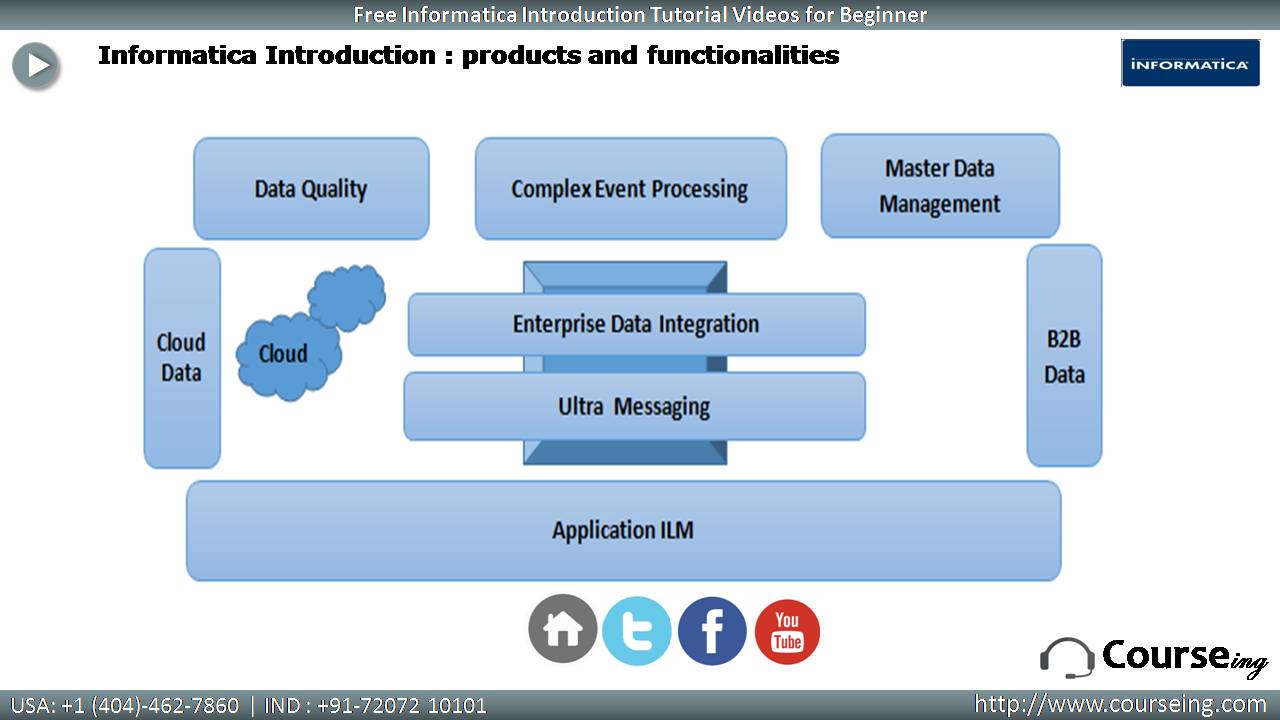 Here, We will see what are the Products and Functionalities
The products and functionalities include Connectors, Data Quality, Big Data Management, Cloud Integration, Real-Time Integration, Master Data Management, Data Integration Hub, Real Time Integration, Advanced Data Transformation, B2B Data Exchange, Data Integration Testing, and Power Center Productivity Add-On Packages etc.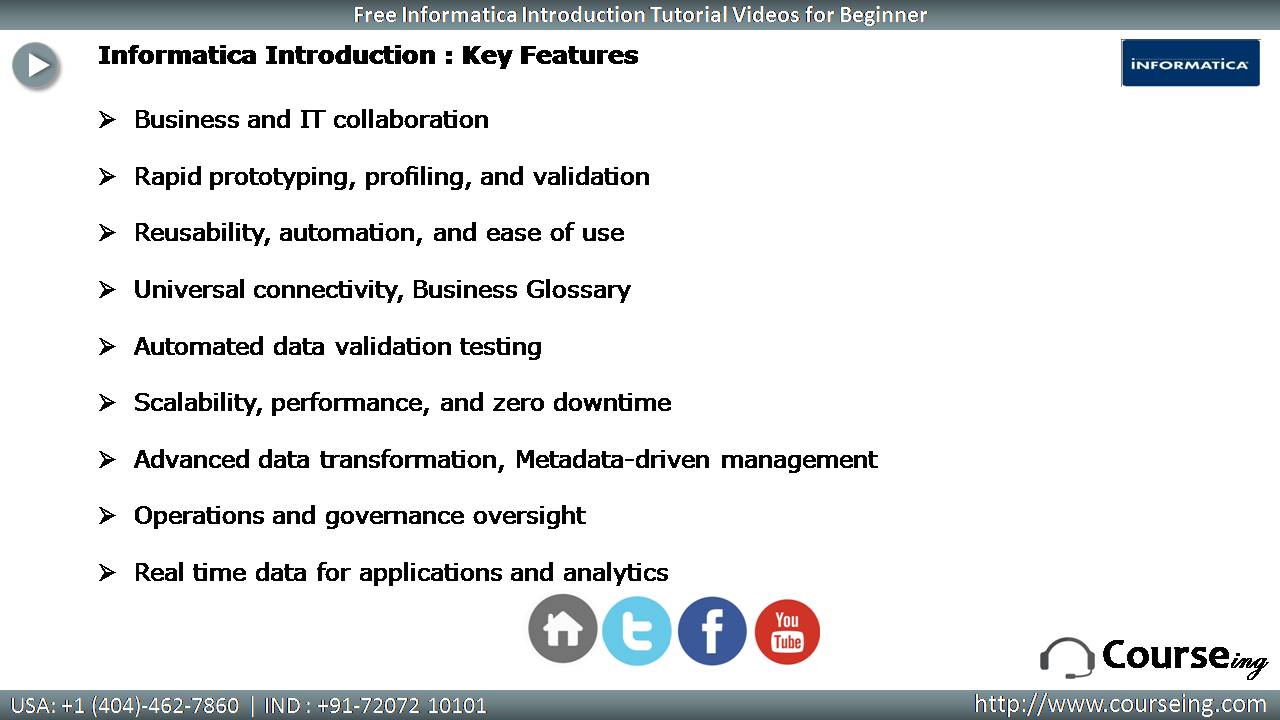 Now we will understand, what are the Key Features of informatica
Informatica include more features for Business Users on Data Analyst and Metadata management which gives Improved Administrator experience.
It builds in Intelligence to improve performance, Better designs with enforced best practices on code development.
It supports code integration with external Software Configuration tools.
And also Lot of new features are included as part of Data Integration and Data Governance area.